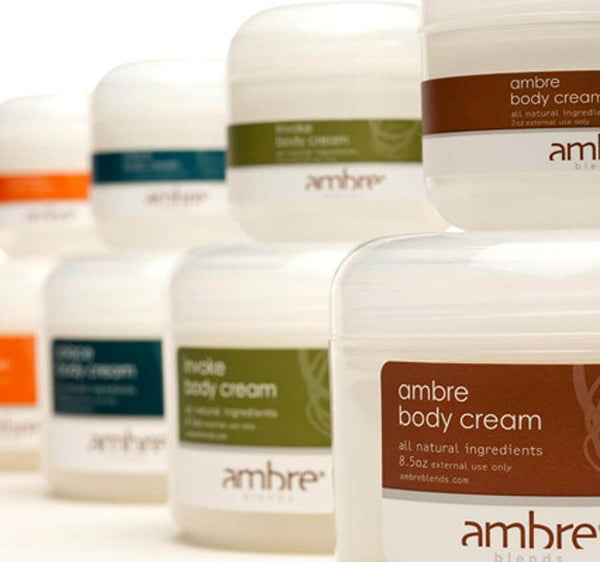 Add to wishlist
Ambre Blends are made with love in the USA by their team of dedicated staff members.
The four delicate, all-natural essences are created with pure, organic, and natural vegan ingredients and are designed to be worn by both men and women. 


Ambre Blends fragrances and creams are not available online. 
Please visit our boutique to sniff and appreciate these beauties or call us to place your order.
*  Body cream contains everything yummy the skin adores.
*  Made from shea butter, vitamin E, jojoba oil & green tea.
*  Pure essence oil radiates off the skin.
*  Recommended by dermatologists for many common skin ailments.
*  Two sizes: 2 oz. travel jar and 8.5 oz. economical jar
*  100% recyclable packaging
There are four Body Creams in each scent. 
The four scents are:
Ambre Essence is the original Ambre Blend. It carries a clean, euphoric and sensual aroma. This flirtatious essence is the base of all Ambre Blends products. Its notes remain a company secret.
Invoke Essence builds on the Ambre Essence by adding a stimulating blend of pure jasmine, neroli, sandalwood and a hint of rose. This essence invokes the scent of spring blooms kissed by the sun.
Solace Essence infuses Ambre Essence with a sensuous vanilla blend, interwoven with a rare special ingredient. This essence was created for the sole purpose of comfort and attraction.
Unmasque Essence combines Ambre essence with over thirteen pure oils to ground you and allure others. This essence was created to reveal the true individuality in all of us.
Loading...