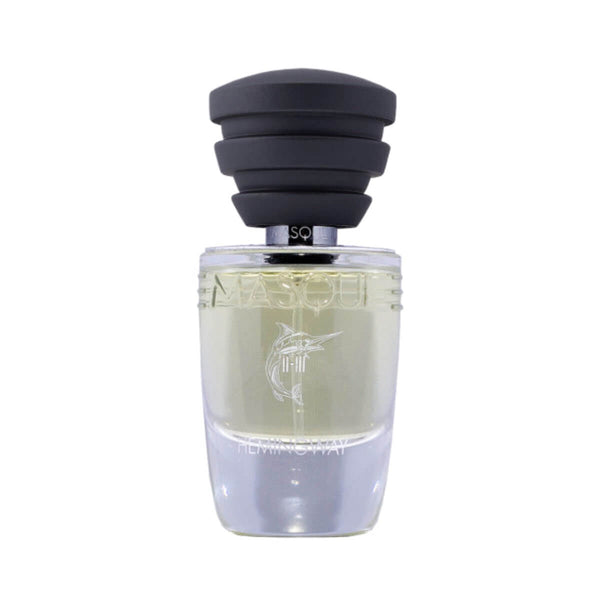 Add to wishlist
Hemingway at Indigo Perfumery
"His eyes were the same color as the sea and they were cheerful and undefeated."
(E. Hemingway) 
Act II    Interior Monologues
Scene Three   (Homage to) Hemingway
Sheer, bright vetiver.
Caribbean vibe.
Interpreted by Fanny Bal, a young and promising trainee of Dominique Ropion (the Master of Vetiver).    
Top Notes: Fresh Ginger oil LMR, Rhubarb
Heart Notes: Vetiver heart, LMR
Base Notes: Haitian Vetiver oil, LMR, Java Vetiver oil (Molecular Distillation LMR), Cedar wood oil, Patchouli oil (Molecular Distillation LMR), Leather
35 ml. EdP spray bottle, 1 ml. glass spray vial samples
Family: Woody, Spicy
**Notes from

Alessandro and Riccardo, creators of Masque Milano:
"While working at IFF for the development of one of our previous fragrances, we heard speaking about Fanny Bal. Having heard about her talent and especially her inclination to work on a material such as vetiver, beautiful and difficult at the same time, we immediately knew we had found the next perfumer to work with.
Working with Fanny we had the pleasure to experiment with one of our favourite ingredients – vetiver – in all the variants available in the wonderful LMR (Laboratoire Monique Remy) fragrance library. We worked on the balance of three different versions: Vetiver from Haiti, woody, dry and spicy, with a slight bitterness in the opening, which perfectly marries the rhubarb note. Vetiver from Java is dirtier, with smoky tones and leathery facets. Vetiver Heart* is a fantastic material, worked so to give a clean and dry vetiver note without the earthy part.
* Hydro distillation followed by fractional distillation to isolate the heart"
Loading...