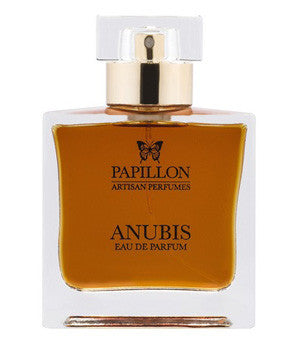 Add to wishlist
Anubis by Papillon at Indigo Perfumery
Inspired by the Egyptian God of the afterlife, Anubis, the heady blooms of jasmine, immortelle and pink lotus bloom amongst a rich suede that smoulders. The incense base of Anubis, containing frankincense, sandalwood, and labdanum, beautifully emphasizes a perfume shrouded in darkness and veiled in a mystery.
Discover Anubis, if you dare.
Top notes: Egyptian Jasmine, Bitter Orange, Rose Otto, Pink Lotus
Heart notes: Immortelle, Rich Suede, Saffron, Clove Bud, Castoreum
Base notes: Frankincense, Sandalwood, Labdanum, Benzoin, Oakmoss, Tolu, Vetiver
Family: Oriental leather floral
50 ml. EdP spray, 1 ml. spray sample
Liz Moores describes Anubis:
"Anubis began life as a signature scent for myself. I have always been drawn to dark, leathery scents and the metamorphosis of Anubis from personal sketch to final product has been considerable. It was nameless until it was completed and it was then that I realised my obsession with ancient Egypt had subconsciously manifested itself; the initial materials used, synonymous with mummification, have now been sweetened into a dark but delicious fragrance. After many reincarnations, Anubis was born."
Loading...