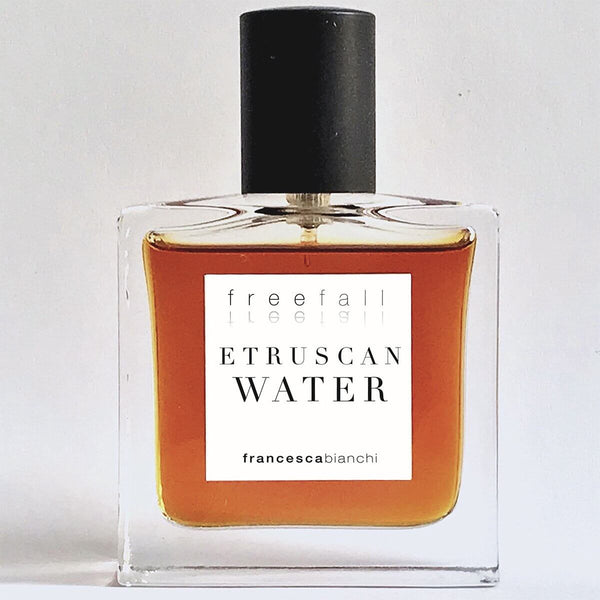 Add to wishlist
Etruscan Water by Francesca Bianchi at Indigo Perfumery
Green     Aromatic     Chypre
If I had to define Etruscan Water, I would call it a green-citrusy perfume with character - or with a dirty/sexy vibe! But such a definition cannot embrace its complexity.
The inspiration comes from two different sources. 
The first one is my personal memory: being born and raised in Tuscany, we could go to the beach in the South of the region, where hundreds of years ago our forefathers, the Etruscans, used to live. 
In order to access to the most stunning, well hidden small bays, and offering the most transparent water, there was a 30 minutes walk through the woods. These woods are full of wonders! The smell of typical Mediterranean vegetation is charming and, if you are lucky (or unfortunate…) you could bump into a wild boar - or even some remains of the Etruscan civilization. 
The salty, refreshing smell of the sea soothes you from the heat of the sun that is warming up your skin.
The second source of inspiration is my personal research on masterpieces of perfumery, as I have recently been intrigued by the classical masculine citrusy cologne – not the light ones, but those with a strong character.
This is the first release of the line FREEFALL, opening to new directions in my work.
Notes:  Bergamot, Green Tangerine, Grapefruit, Petit-grain, Basil, Carvi, Immortelle, Jasmin, Iris root, Musk Ambergris Labdanum Vetiver Oakmoss
Family: Citrus, Green, Chypre
30 ml. Extrait de Parfum spray, 1 ml. spray sample 
Loading...