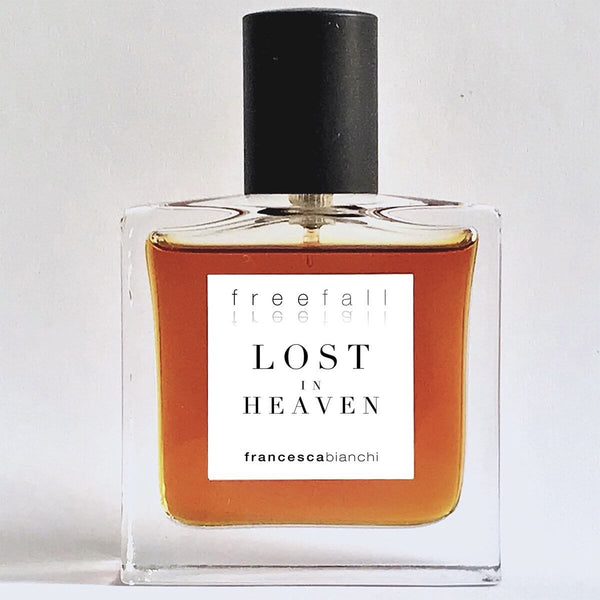 Add to wishlist
Lost in Heaven by Francesca Bianchi at Indigo Perfumery
Fragile     Emotional     Sensual
Lost in Heaven depicts a dream sequence of an adult getting lost in paradise. 
It represents the complexity of feelings conveying both the longing for a place of uncontaminated innocence and unconditional love and the inevitable and controversial burden of life, made up of feelings of sin and guilt - real, or even worse, imaginary.
This dichotomy, which sits at the back of anyone's soul, is portrayed by a selection of the most angelic notes: beautiful Orange Flower and Jasmine absolutes, together with soft Heliotrope, smooth Sandalwood, sweet Tonka Bean and many other notes that I consider paradisiac. 
The darker side is conveyed in a much more subtle way, not immediately detectable, via cumin and other spices, and a large selection of animalistic notes, including a reconstruction of Tonkin Musk. 
Fragile, sensual, emotional, though not technically a gourmand, it reminds me of a cake, rich in spices and with an orange blossom aroma: not haute patisserie but the archetypical smell of a cake made by Mommy, with only good things in it.   
NOTES: 

Grapefruit, Green Tangerine, Orange Flower Absolute, Jasmin, Ylang Extra, Mimosa, Magnolia, Cumin, Cinnamon, Coriander, Ambergris, Musk, Castoreum, Beeswax, Iris Butter, Ciste Absolute, Opoponax, Heliotrope, Vetyver, Sandalwood, Patchouli, Tonka Bean.
Family: Woody, Floral, Gourmand touches
30 ml. Extrait de Parfum spray, 1 ml. spray sample 
Loading...