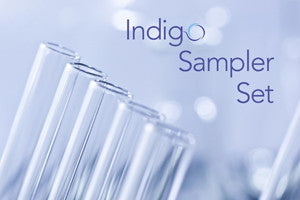 Add to wishlist
It is very difficult to tell how a perfume will interact with your skin's chemistry until you have discovered how the scent changes over time, which it will. A fragrance needs to interact with the skin's chemistry to develop to its fullest potential and reveal its true nature over time, as the notes evaporate on the skin.

With that in mind, Indigo offers our customers perfume samples in a 3 ml. glass spray vial filled with

1 ml. of perfume

. Samples are limited to two per person of one fragrance. Purchase our Indigo Sampler Set and receive five samples for $20 plus a coupon code for $10 off one full bottle purchased from the Indigo Sampler Set. The five samples must all be different perfumes.

Please indicate your five choices during checkout: in the Additional Comments box, please place the perfume names.
PLEASE NOTE: INDIGO SAMPLER SETS ARE LIMITED TO ORDERS PLACED

ON THE WEBSITE ONLY

. 
Loading...