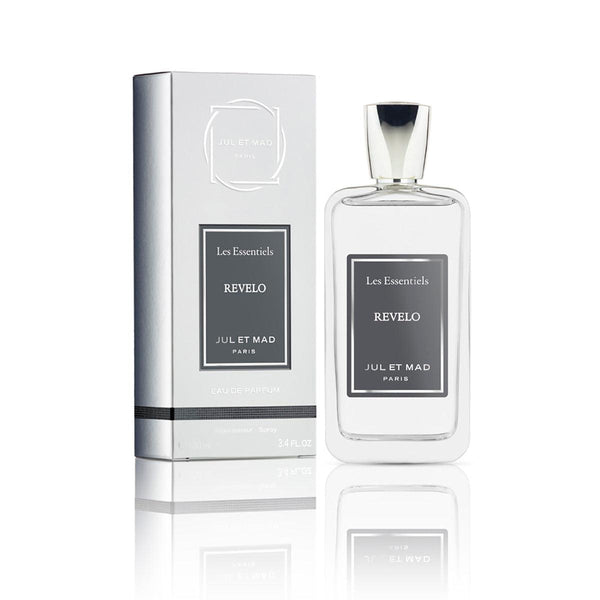 Add to wishlist
REVELO by Jul et Mad at Indigo Perfumery
REVELO is the center of Jul et Mad's brand new collection, 

«

Les Essentiels

» !
Les Essentiels is a collection of Eau de Parfums that focus on creations highlighting a specific note or precise accord that celebrate Jul et Mad's

 love for superb raw materials, rare ingredients and pure essential oils. 
Classic, but also innovative, "Les Essentiels" is much more than a simple perfume collection. JUL ET MAD Paris' six new fragrances are accompanied by a Perfume Intensifier, REVELO.
Meet REVELO, a whole NEW, INNOVATIVE CONCEPT in perfumery!
REVELO is a BASE, a primer, a perfume amplifier, which will be sprayed directly on the clean skin, as a preparatory foundation, before applying the favorite perfume. It makes your favorite perfume last longer.

REVELO can be worn alone as a skin fragrance-  discreet, soft, sophisticated 
REVELO can also ...
~Be applied as a base to make your favorite perfume last longer 

~ Act as a veritable screen, between the skin and the perfume, thus avoiding any unpleasant reactions of your pH on your perfume
~ Complete your favorite perfume, making it warmer, more intense and complex
~ Provide more amplitude / sillage to any perfume while accentuating its beauty
~ Is compatible not only with all Jul et Mad fragrances, but also with any perfume


Top Notes: Hedione
Heart Notes: Tonka Beans
Base Notes: Musk, Ambroxan
100 ml. EdP, 1 ml. spray sample
THE ACCORD: MUSK
PERFUMER: Luca Maffei, Atelier Fragranze Milano
Loading...