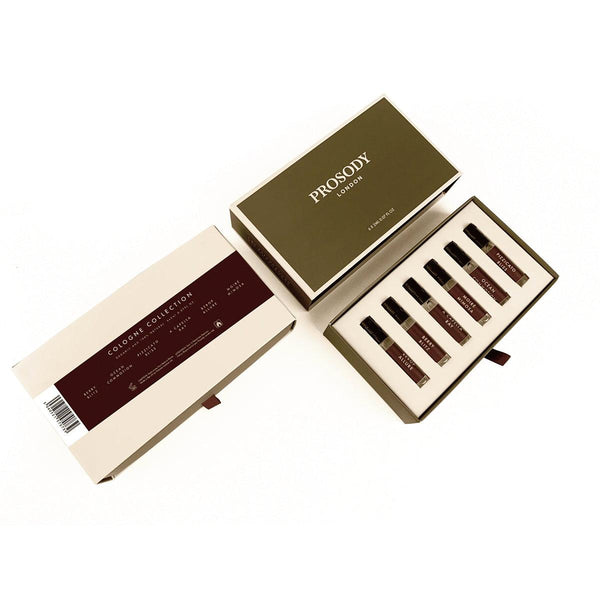 Add to wishlist
Prosody London Cologne Collection Sample Set at Indigo Perfumery
Organic and 100% natural cologne set is designed to feature complex exciting top notes to delight your senses, supported by a lighter base that does not overwhelm the delicate top notes. Each cologne will last between 4 to 8 hours depending on your skin. The set comprises six 2ml samples of the signature scents: Berry Blitz, Ocean Commotion, Pizzicato Bliss, A Capella Ray, Bebop Allure, Moiré Mimosa.
"Making organic fragrances is hard. These guys are very good at it." Luca Turin, the most respected perfume critic in the world.





FRAGRANCE INFORMATION
BERRY BLITZ

Top           Bergamot, Scottish blueberry, blood orange
Heart       Pimento, lichen
Base         Raspberry, jasmine, English oak, peat, Oakmoss


OCEAN COMMOTION

Top           Ozonic seawater, marram grass
Heart       Beechwood
Base         Vesuvian lichen, kombu, Oakmoss

PIZZICATO BLISS

Top           Quince blossom, Avignon petitgrain, Sicilian lemon
Heart       Tuscan fig leaf
Base         Egyptian myrrh, Iranian Galbanum
A CAPELLA RAY

Top           Sicilian lemon, mandarin peel, black pepperi
Heart       Bulgarian rose, Cherry blossom, lemongrass
Base         Buddleia
BEBOP ALLURE

Top           Cox apple, Valencia neroli
Heart       Bulgarian rose, Russian celery seed
Base         Egyptian myrrh, Madagascan vanilla, Haitian vetiver
MOIRÉ MIMOSA

Top           Neroli, melon, coconut, Chilean lime, almond blossom
Heart       Mimosa
Base         Indian tuberose
Loading...