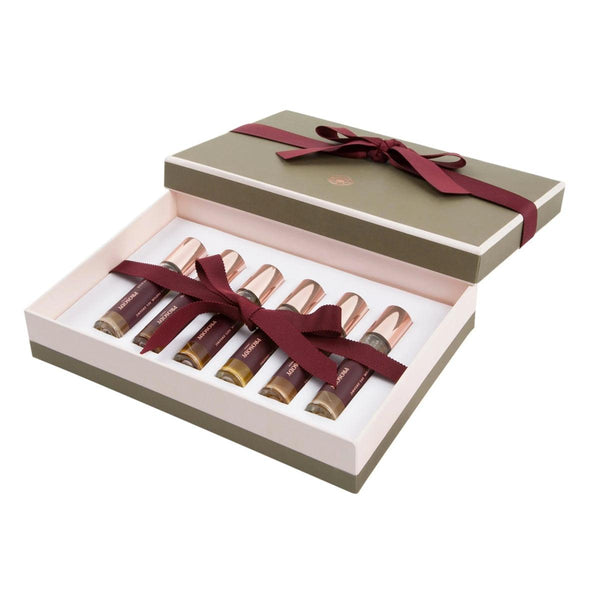 Add to wishlist
Prosody London EdP Travel Set at Indigo Perfumery
Prosody London's  Travel Set is the perfect gift for someone special to explore the full range in 10ml format. It's also a great way to find out which fragrance is your favorite.



The set of 6 includes the following:

MOCHA MUSCARI
Evocative and enigmatic. An ambery chocolaty scent makes a counterpoint with fresh notes of mango, jasmine and lavender, on a base of black agarwood and sandalwood. Our most surprising and seductive creation.
JACINTH JONQUIL
Captivating and contemporary. Gorgeous hyacinth, heady jasmine, fresh jonquil. A breath of spring for every season. Idyllic and irresistible.
LISSOM LINDEN
Sophisticated and sensual. The essence of summer, perfect all year round. Honeyed hints of rose, fresh linden flowers and melon on a base of calming frankincense and light musky wood notes. Uplifting and unforgettable.
OUD OCTAVO
Alluring and addictive, rich and woody. Opening with mystic olibanum tinged with coconut and bergamot, it reveals a melodious heart of cedarwood and oud, a rare harmony that never dies. Intriguing and intoxicating.
NEROLI NUANCE
Bright and summery, fresh and flirtatious. A captivating blend of neroli, blood orange, candlewood supported with an exciting base of orange blossom and labdanum. An elegant embrace.

ROSE RONDEAUX
Delightfully decadent, seductively fruity and woody. The top notes of luxurious iris, bergamot and raspberry gradually reveal a delicate rosy heart with patchouli warmth, and a shapely base of blackcurrant and musky sandalwood. Romantic and radiant.


Loading...