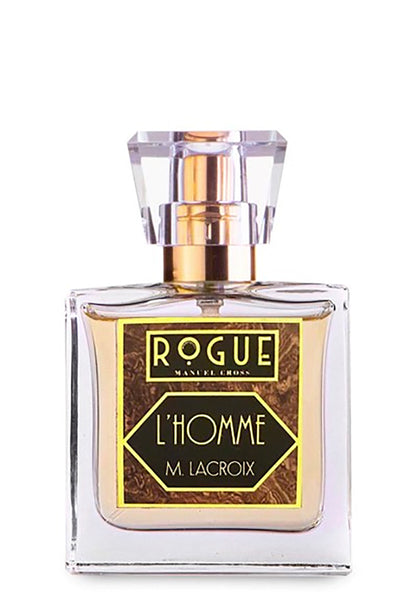 Add to wishlist
L'Homme M. LaCroix by Rogue Perfumery at Indigo
Notes:

 

Bergamot, Lemon, Petitgrain, Orange Blossom, Thyme, Geranium, Cassie Absolute, Vetiver, Orris, Cinnamon Leaf, Rose Absolute, Labdanum, Oakmoss, Birch Tar, Cedar, Patchouli, Tonka, Sandalwood 
L'Homme M. LaCroix is 100 percent botanical, vegan and with no animal-based materials.
Manuel Cross describes L'Homme M. LaCroix's inspiration: 
"When I named my brand Rogue, it had a dual meaning.
As an artisan perfumer, I dare to be different by going my own my way and Rogue also refers to my origin story. Two of my ancestors were driven from France and fled to Ireland in 1735. Generations of the Cross family quietly recounted stories about those "rogues" who engaged in nefarious smuggling activities, when they thought we kids weren't listening.
L'Homme M. Lacroix is dedicated to Allen and Corneleius LaCroix. In keeping with the times they lived in, I decided to work only with natural ingredients to create my first leather fragrance.The strong blast of lemon and citrus at the opening is contrasted with cassie flower, which has an intense green spicy aroma. Along with birchtar, these two ingredients are the backbone of my leather accord. Cedar is used to suggest the wood planks of the boat they used to escape France and as L'Homme M. Lacroix develops the darker it becomes, smoky labdanum adds a somewhat menacing effect and oakmoss adds facets of woods, ink, tar and seaweed. Although I used only botanical ingredients, it's a powerhouse with excellent longevity, and sillage.
L'Homme M. LaCroix is a bad boy leather that brings out your own inner rogue." — Manny Cross
Family: Woody
30 ml. EDT, 1 ml. spray sample
Non-Contemporary Fragrances
Loading...