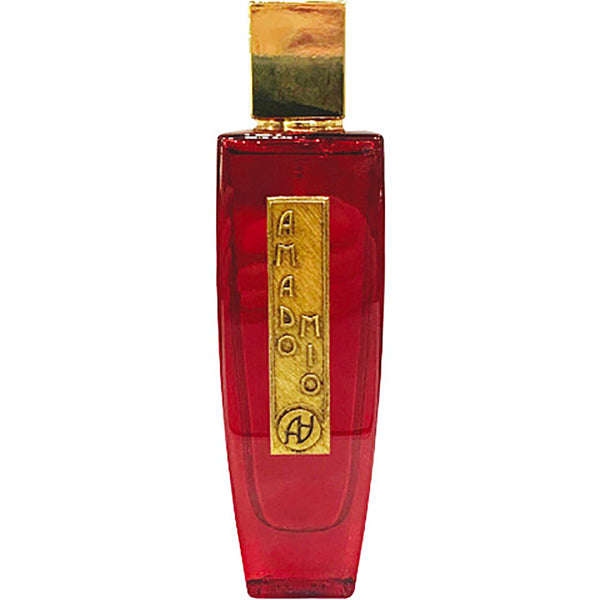 Add to wishlist
Amado Mio by Antonio Alessandria at Indigo Perfumery
Antonio Alessandria Amado Mio Eau de Parfum  is, as always for the creator, an enchanting olfactory tale fished from the trunk of his memories: here is the story of the meeting between his grandfather and grandmother.
As Antonio Alessandria recounts , the meeting is well expressed in the dichotomy between rose and tobacco: at the first meeting, grandfather Sebastiano gave his future wife Giuseppina a red rose; but the scent of the magnificent flower was almost covered by that of the cigars he carried in his pocket, an olfactory dichotomy already a symbol of the union between the two. 
Amado Mio  takes its name from the song, then very popular, sung by Rita Hayworth in the film Gilda, and tells a story of love and passion between a man and a woman, which mirrors that between his grandparents, also symbolized by the encounter-clash of tobacco and rose that chase each other in the perfume and merge into a passionate union.
In Antonio Alessandria Amado Mio Eau de Parfum these two accords evolve throughout the composition, intertwining and becoming one. At the opening, a green accord heralds the leaves and stem of the rose that arrives in the heart, red and scarlet, made darker and more intense by the geranium, softened by the raspberry. The tobacco, on the other hand, which announces itself with clary sage in the head, is fully revealed in the balsamic base, between amber notes and Tonka bean, together with the vegetable sweetness of wheat absolute and helichrysum, in a sensual and passionate fragrance, unforgettable.  
Top Notes : green accord, lavender, raspberry, clary sage
Heart Notes : rose, geranium, cloves
Base Notes : tobacco, helichrysum, cedar wood, vetiver, grain absolute, tonka bean, amber notes, musks
Family: Floral, Aromatic
50ml. Eau de Parfum, 1 ml. spray sample 
Perfumer: Antonio Alessandria
Loading...