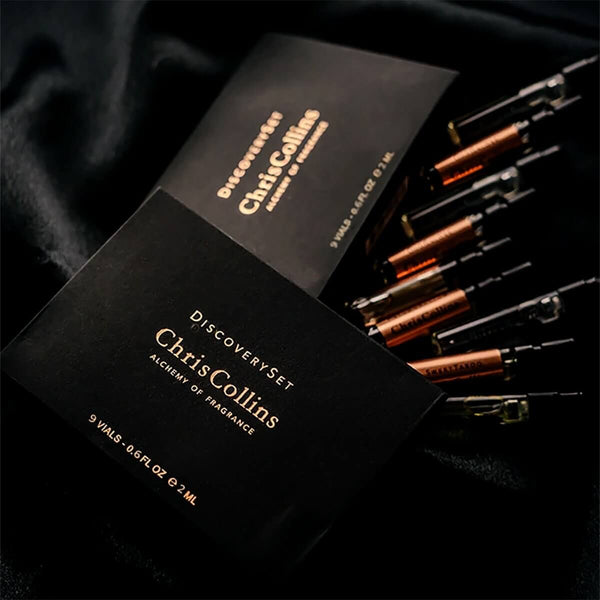 Chris Collins Discovery Set
Add to wishlist
Chris Collins Discovery Set at Indigo Perfumery
The very popular Chris Collins Discovery Sets are on backorder.
We are taking preorders now.
When they arrive at Indigo, we will ship them out promptly!
A set of all 9 fragrances
Experience the alchemy of our fragrances mingling with your skin. The Discovery Set introduces you to all our scents, each of which tells a different story.
Vide Core Meum : Vide Cor Meum (See My Heart), was inspired by an aria composed opera and takes the classic beauty of an Armenian style rose and modernizes it with herbaceous thyme. Sweet vanilla creates an atmosphere of seduction, and resinous incense adds a layer of mystery.
African Rooibos:  A warm wind carries the scent of rooibos leaves and cedar off the South African mountains. Spicy black pepper and warm cardamom speak to a multidimensional personality, while bright bergamot brings life to the blend. 
Sweet Taboo:  Obsessive and intoxicating, this fragrance inspires you to break taboos in search of pleasure. Gourmand notes like coffee, cardamom, and vanilla create a seductive atmosphere few can resist.
Tokyo Blue:  This floral blend exudes freshness, not sweetness, capturing the depth and intelligence of jazz notes from a saxophone. The fragrance foregrounds the metallic, aqueous scent of violet leaf in an homage to Chris' father, who favored violet colognes.
Autumn Rhythm:  

Autumn Rhythm features a sensual blend of leather, cedar, and musk, conjuring images of a leather jacket and a trip out of the city and into the woods. The scent speaks to someone who stays confident in the face of chaos.
OUD Galore:  

The word "galore" implies near-infinite abundance. Wear this resinous, otherworldly fragrance to see the things you desire multiply around you. Oud, also known as agarwood, is overwhelmingly popular in the Middle East and Asia—it's indescribably sexy and entrancing.
Danse Sauvage:  

Wild and erotic, this boozy, spicy scent has the power to bewitch. A blend of plum, cognac, and chili notes will envelop you in mystery and charm, leaving others feeling drunk off your presence.
Harlem Nights:  

A blend of orris and animalic musk replicate the feeling of smoking a fine cigar, while a rum accord smells like it was poured from the top shelf. Together, these notes create the anything-goes atmosphere of 1920s nightlife, where any night could become the stuff of legends.
Renaissance Man:  

An energetic, emotional fragrance, Renaissance Man unites different natural elements, from marine notes to honey to bergamot. The spicy, gourmand feel of the scent creates moments full of vitality.


9- 2 ml. spray vials
Loading...