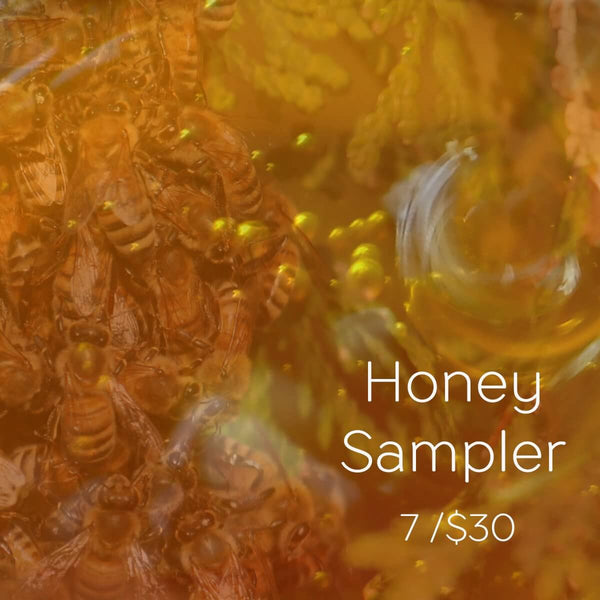 Honey Sampler at Indigo Perfumery
Add to wishlist
Honey Sampler at Indigo Perfumery
Liquid gold. Nature's sweetener.
Most recognize the scent of honey, but did you know that honey is a popular note in perfumes?
Honey's fragrance is influenced by the flowers the bees visit to extract the nectar. When the honeybee collects nectar from flowers, the nectar is mixed with the "bee enzyme" in the bee's mouth, turning the nectar into honey. 
The scent of honey is rich, warm and comforting, with sweet, balsamic, earthy, somewhat resinous, slightly fruity and floral components. Magical.
Indigo Perfumery presents our favorite perfumes with honey, either as the main focus or an important peripheral note that adds richness and depth to the fragrance.


Bengale Rouge by Papillon: Golden fur, swathed in sandalwood and doused in honey
Choeur des Anges by Atelier Des Ors: A of poetic celebration of honey's golden goodness, fused with blood oranges, radiant fruits and flowers
Slowdive by Hiram Green: A warm, tobacco flower drenched in honey
Le Pavillon D'Or by Dusita: A finely blended, happy elixir with intriguing notes, including Frankincense Green Sacra with its golden honey scent and sweet amber nuances.
Un Air D'Apogée by Violet: Mimosa, leather, tobacco and spices… all enveloped by honey
Honoré Delights by Ex Nihilo: 

a delicate, yet intoxicating, revisited "Gourmandise" treat for the skin. C

alm, beautiful and with a bit of sweetness.



Renaissance Man by Chris Collins: Honey dipped Tobacco Leaves, drizzled with Bergamot, floating in the Sea
You will receive all seven 1 ml. spray samples for $30, plus a coupon code for $10 off one full bottle from the Honey Sampler.
The samples are provided in 3 ml. glass spray vials filled with 1 ml. of perfume. The samples are prepared by hand with the actual, original perfume from the perfumer.
Loading...