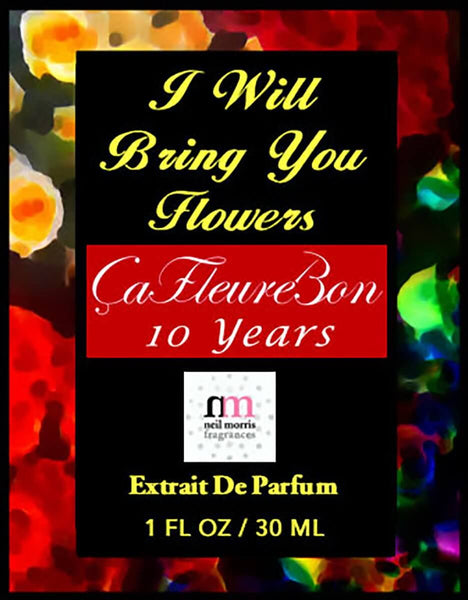 I Will Bring You Flowers by Neil Morris for Cafleurebon
Add to wishlist
I Will Bring You Flowers by Neil Morris at Indigo Perfumery for ÇaFleureBon
Neil Morris tells us the story he told to Michelyn:
"The back story on this is that I have always felt that if there were to be an ultimate, perfect perfume in this world, it would be a Floral. I believe that flowers are the transmitters of Heavenly Aromas here on Earth. Flowers are the Great Olfactory Communicators and for me, Cafleurebon epitomizes that same olfactory Communication, only through the use of words. There is so much talent and commitment and love of all things perfume emanating from you and the writers at Cafleurebon!
So of course the only choice for a perfume from me to you, in honor of your 10th anniversary, would have to be a Floral! And so… I Will Bring You Flowers!!"
Top : Lavender Aldehyde, Floral Aldehyde, Mandarin Aldehyde
Heart : Rose, Narcissus, Honeysuckle, Plumeria, Dossinia orchid, Geranium, Heather, Jasmine sambac, Gardenia, Hedione
Base : Amber, Vetiver, Suede, Sea moss, Civet
Perfumer:  Neil Morris
30 ml. Extrait de Parfum spray 
Family: Floral
Loading...