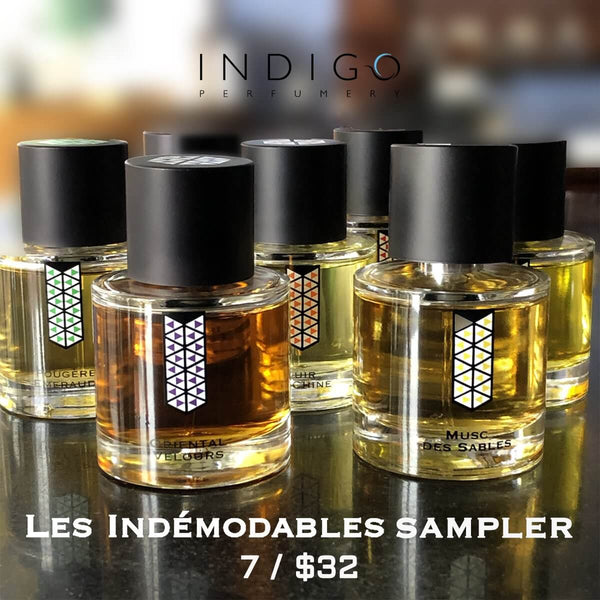 Add to wishlist
Les Indemodables Sampler at Indigo Perfumery
Indigo welcomes Les Indemodables to our gallery of scents! We admire their highest of standards and quality of materials.
The Les Indemodables collection contains original, unconventional fragrances committed to fulfilling the desires of lovers of rare perfumes. L'Atelier Français des Matières takes charge of the entire manufacturing process of the perfume, 

sourcing rare essences and 

offering access to unique ingredients. 

They are constantly looking for the rarest natural jewels for their olfactory creations.
You will receive 1 ml. spray samples of all eight Les Indemodables fragrances:
Musc des Sables
Oriental Velours
Chypre Azural
Rose de Jamal
Iris Perle
Cuir de Chine
Fougère Emeraude
Vanille Havane
Free Shipping too!
When you purchase the Les Indemodables Sampler, we will send you the coupon code for $10 off one full bottle purchased from the Les Indemodables Sampler.     FREE SHIPPING
1 ml. samples in 3 ml. glass spray vials are filled to one third, prepared fresh and by hand with the actual, original perfume. 
*  Indigo reserves the right to replace a perfume sample in the Les Indemodables Sampler with another perfume if we are out of stock.
Loading...