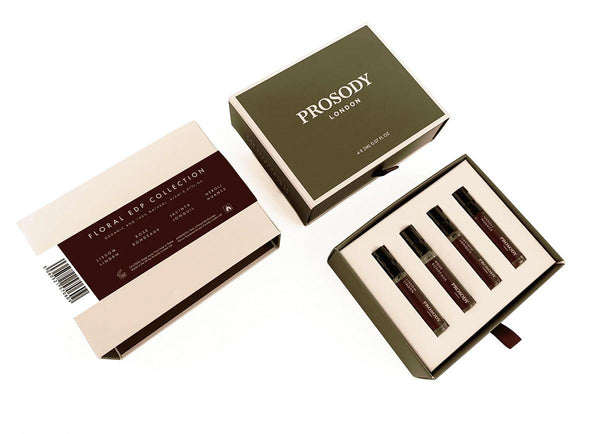 Prosody London Floral EdP Sample Set
Add to wishlist
Prosody London Floral EdP Sample Set at Indigo Perfumery
Try our floral eau de parfum collection 4 X 2ml sample set. This includes Jacinth Jonquil, Rose Rondeaux- a fruity rosy woody perfume, Neroli Nuance - a bright summer orange blossom perfume, Lissom Linden - a very fresh floral bouquet. 
"Making organic fragrances is hard. These guys are very good at it." Luca Turin, the most respected perfume critic in the world.
FRAGRANCE INFORMATION
JACINTH JONQUIL
Captivating and contemporary. Gorgeous hyacinth, heady jasmine, fresh jonquil. A breath of spring for every season. Idyllic and irresistible.
LISSOM LINDEN
Sophisticated and sensual. The essence of summer, perfect all year round. Honeyed hints of rose, fresh linden flowers and melon on a base of calming frankincense and light musky wood notes. Uplifting and unforgettable.


NEROLI NUANCE
Bright and summery, fresh and flirtatious. A captivating blend of neroli, blood orange, candlewood supported with an exciting base of orange blossom and labdanum. An elegant embrace. Contains Oakmoss.

ROSE RONDEAUX
Delightfully decadent, seductively fruity and woody. The top notes of luxurious iris, bergamot and raspberry gradually reveal a delicate rosy heart with patchouli warmth, and a shapely base of blackcurrant and musky sandalwood. Romantic and radiant.
Loading...