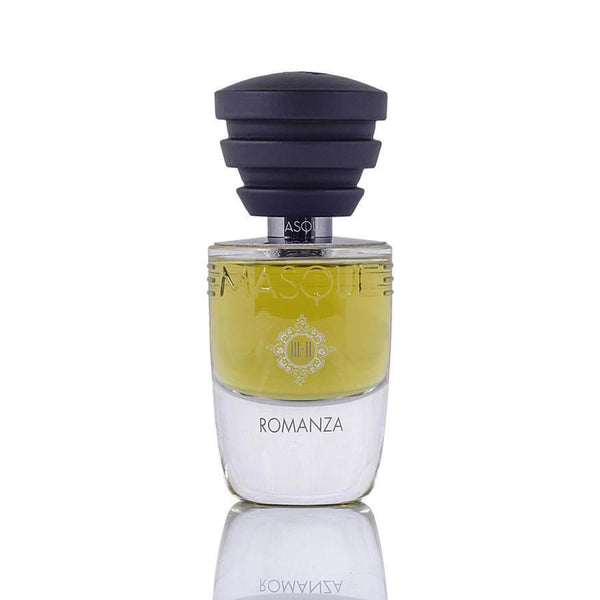 Add to wishlist
Romanza by Masque Milano at Indigo Perfumery 
III - II
ROMANZA
[Victorian Narcissus]
The studio was filled with the rich odour of roses...
Daylight is breaking in. What time is it? The Green Fairy inspired throughout your nightlong endeavours and now you're done. Your beautiful subject is still there facing you. ...such a beautiful poser... So well dressed, so carefully groomed, so irresistibly debonair, ...beautiful and intoxicating... as intoxicating as the indolic smell of the flowers in full bloom, coming from the garden. So weird – only yesterday you were just friends. Bees hopping from one flower to another, per- petuating the amazing circle of life. Butterflies in your stomach. What is going on? What is this vertigo? Overwhelming attraction, stirring you up. Still you are not in love – yet.
"

the narcissus, narcissus, narcissus… (it seduces you, you fall in love with it… it becomes a drum) surrounded by floral accents – magnificent reconstructions of violets (using a fantastic absolute of violet leaves) and hyacinth – but also notes of "decadent" woods, almost to hint to the elusiveness of time that slowly, slowly, drags you down to the deep notes."  (From the Smell Festival's interview of Alessandro and Riccardo, http://www.eng.smellfestival.it/masque-milano-a-victorian-narcissus-blooms-at-smell-festival/)
Interpreted by CRISTIANO CANALI
Top Notes: 
Absinth (Artemisia), Orange Blossom, Angelica

Heart Notes: 
French Narcissus Abs., Violet Leaves, Jasmine

Base Notes: 
Decadent Woods (Vetiver, Cedarwood, Patchouli), Amber Accord, Myrrh
35 ml. EdP spray bottle, .7 ml. glass vial with dauber samples
Family: Floral, Spicy
Loading...