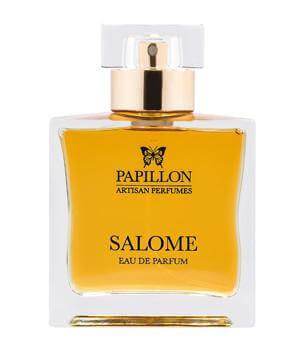 Add to wishlist
Salome by Papillon Perfumery at Indigo
Meet Liz Moores' exciting fragrance inspired by Salome and the erotic postcard of the 1920s. 
With daring doses of indolic jasmine and rich feral musks, Salome's bedevilled and velvety animalic facets dance seductively behind a veil of Turkish rose and carnation. Vintage and honeyed, it lures with the warm, plush appeal of an erotic boudoir before ensnaring the wearer in a web of unashamed erotic delight. Slip into your second skin with Salome.
See for yourself! 
Notes: Jasmine, Carnation, Turkish Rose, Africa Stone (Hyraceum), Patchouli, Vanilla, Sweet Hay, Cumin, Clove bud, Bitter Orange, Oakmoss, Styrax, Bergamot, Orange Blossom, Castoreum, Civet, Birch tar
Perfumer: Liz Moores
Family: Floral chypre
50 ml. EdP Spray, 1 ml. spray sample
Liz's inspiration:
"My inspiration for Salome was taken from an original 1920's photograph of a beautiful erotic dancer It's a photograph that I pass in my hallway every day and each time I look at it I can't help but wonder about this daring and mysterious beauty and what her life was like. I felt that her dark and evocative portrait naturally lent itself to the story of Salome, who's intriguing and colourful representations have embellished fine literature for centuries. My aim was to create a perfume as enigmatic and alluring as the siren in the photograph whilst drawing from a wealth of enchanting literature about the spellbinding Salome."
Loading...