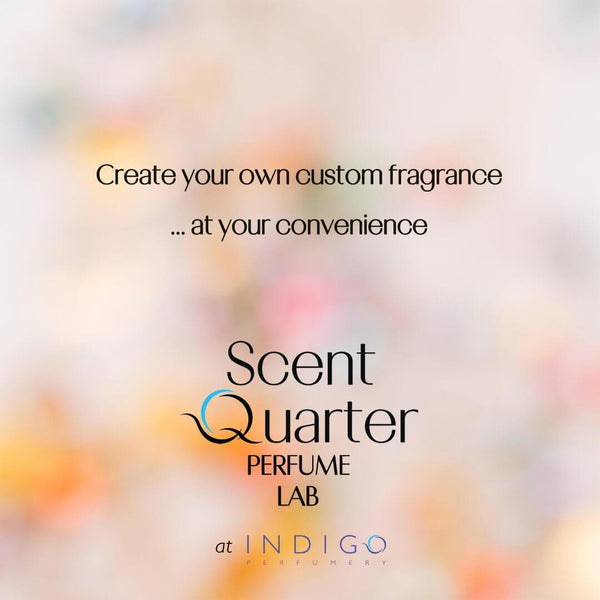 Scent Quarter Custom Perfume at Indigo
Add to wishlist


Indigo's Scent Quarter is closed due to Covid in our county. 
When Indigo determines it is safe to do so, we will resume the Scent Quarter. Until then, we are unable to accept any reservations at all.  Thank you for understanding!
Mix your own custom fragrance at the Scent Quarter, located within Indigo Perfumery. 

 


We will guide you on your journey, from the discovery of the ingredients to the layering process through to the final blending of the perfume. With the wide array of top, heart and base notes in the Scent Quarter's professional bases collection from Grasse, France, your options are limitless. 
Choose between a 15 ml. ($50) or 30 ml. ($75) Italian glass spray bottle with the knowledge that your formula will be kept on file for your future use only. Reorders are available. 
Each labeled bottle will be enclosed in a custom felt pouch for safekeeping.
It is also possible to purchase a Scent Quarter session as a gift. The gift recipient can then call to arrange their session time at their convenience. 
 
 
Give the gift of a Scent Quarter Custom Perfume to your family, friends, or yourself!
 To schedule an appointment, simply choose your date and time before you add it to the cart, or contact us at the store.


Walk-ins are welcome, but we cannot guarantee availability.
If you have any questions, please call us at 216-767-5563.
Indigo recommends that you consult with your doctor before creating your own fragrance at the Scent Quarter if you are pregnant, have asthma or any severe allergic reactions.


Loading...