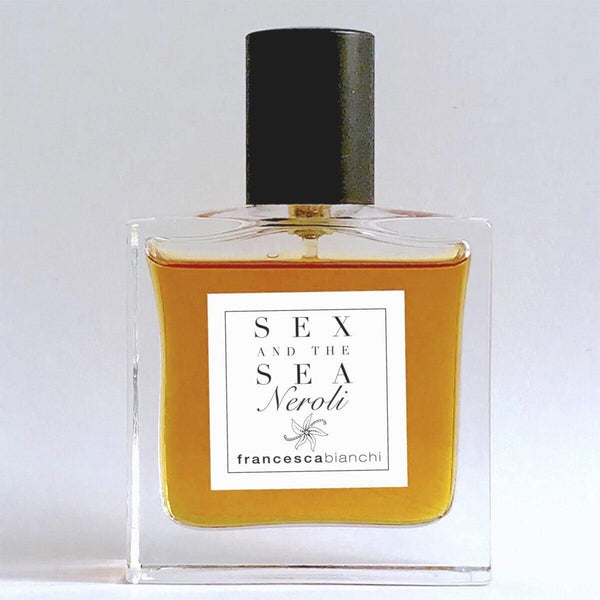 Add to wishlist
Sex and the Sea Neroli by Francesca Bianchi at Indigo Perfumery
Fresh     Hypnotic     Seductive
This perfume came out just for fun: What happens if I take my Sex and The Sea - an extrovert, sexy, warm scent - and combine it with my Neroli - a shy, sharp, hypnotic smell? Mind you, things didn't happen that easily, I had to calibrate the whole formula to allow Neroli to stay in the same room as Sex and The Sea.
The result was so hypnotic and sexy, so refreshing and warm, that I decided to produce this little treasure and not just to keep it for my personal use.
I have to admit that I have a soft spot for an anti-snobbish attitude (though probably being unconsciously snobbish myself) therefore the simple idea of creating something so commercial as a "flanker" was exhilarating.
Sex and The Sea Neroli presents – as the original version

 

– a heart of coconut, the saltiness of the sea, the sweet sweat of a warm skin but this time with a hint of narcotic freshness, which makes the perfume more complex and its evolution more intriguing.
PS: The logo is a drawing of mine, an imaginary union of a Neroli flower and a starfish!
Notes:  

Bergamot, Petit-Grain, Honey, 

Neroli, Mimosa, Coconut, Immortelle, Rose, Iris, S

andalwood, Vetiver, Labdanum, Benjoin, Ambergris, Civet, Vanilla
Family: Floral, Citrus
30 ml. Extrait de Parfum spray, 1 ml. spray sample 
Loading...