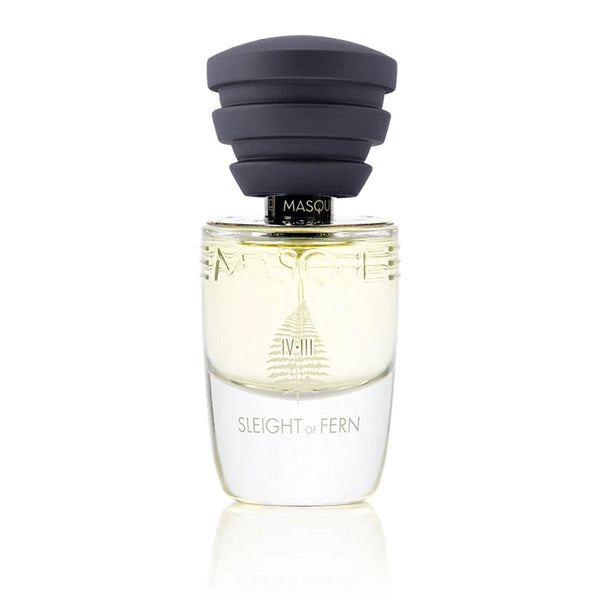 Add to wishlist
Sleight of Fern by Masque Milano at Indigo Perfumery
IV – III
SLEIGHT of FERN
"Nel profumo che lo ha accompagnato per una vita intera, tutta la saggezza di una generazione silenziosa." ("The perfume that has accompanied him for an entire life, all the wisdom of a silent generation.")
Sleight of Fern has been created in respect of the historic construction of Fougère fragrances, in line with the most deep, unique and recognizable notes of the classic formulations- the ones that also enhance a Chypre signature.
We worked on this new composition with the aim of making it elegant and distinctive, sensual, addictive and very sophisticated. A new fragrance that brings comfort and the souvenirs of our forefathers, as well as modernity and unexpected combinations.
Tuberose and Narcissus play fatal attraction in the heart of Sleight of Fern, bringing depth, complexity and a very attractive sensuality to the minty and rosy Geranium. This mesmerizing floral heart opens with crispy citrus, spices and aromatic herbs that gravitate on top to showcase the most pleasant and modern facets of French Lavender. This unique scented journey gently leads with confidence to a stylish, vibrating and refined woody leathery base, where birch wood echoes with leathery red thyme and oregan on top: the circle is squared!
Top Notes: Bergamot Italy (Calabria), Lavender France, Fig sap accord, Lentisk EO Morocco, Red Thyme Spain
Heart notes:  Tuberose Abs India, Geranium EO Egypt, Narcissus Abs France (Auvergne)
Base Notes:  Sandalwood, Birchwood EO, Patchouli, Oakmoss, Tonka Beans Abs
35 ml. EdP, 1 ml. glass spray vial 
Interpreted by Stephanie Bakouche
Loading...