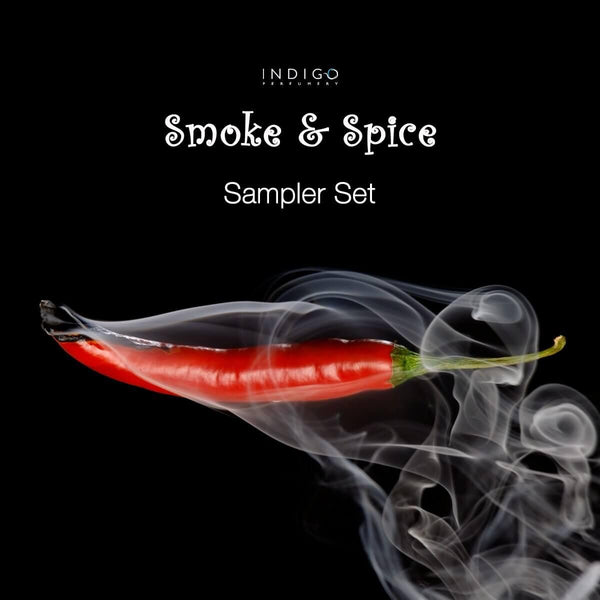 Smoke and Spice Sampler Set at Indigo Perfumery
Add to wishlist
Smoke and Spice Sampler
Cooler weather has arrived and we're ready!
With the falling temps, cozy fires and hearty scents sound tempting.
Here are our suggestions for mood-making fragrances with smoke and spice:
Rich, sophisticated and long-lasting, with notes of lapsang souchong tea, mandarin orange, apricot, guaiac wood, incense and pine tar. 
Saffron, rum and pink pepper are among some of the notes that make up this beauty created by Luca Maffei. The fruit and spice combination is in perfect harmony, while oud, cedar and vetiver contribute to its overnight longevity and above average sillage.


An overdose of spices on a smoldering, ambery base of woods, incense, smoke, and leather.
Spicy and sensual, incorporating leather and smoking incense into a robust base.


A powerful smoky and woody fragrance, inspired by cigars and Islay single malt whisky. Distinctive. Unique.
An elegant, dramatic composition of spices, resins, rum, leather and tobacco. Beautifully blended and memorable. 
Smoke and incense in the breeze.
The barley fields lie just beyond the ridge with their distinctive harvest scent filling the air.
You stand there, close your eyes and take a deep breath.
You will receive all seven samples for $22, plus a coupon code for $10 off one full bottle from the Smoke and Spice Sampler.
The samples are provided in 3 ml. glass spray vials filled with 1 ml. of perfume. The samples are prepared by hand with the actual, original perfume from the perfumer.
Loading...