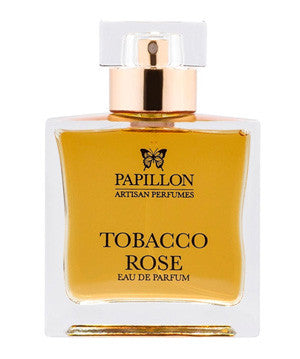 Add to wishlist
Tobacco Rose by Papillon at Indigo Perfumery
Tobacco Rose is a sensual perfume with Bulgarian rose, geranium and Rose de Mai forming an smooth backdrop of velvety rose notes set against a smoky base of French hay and earthy oakmoss.
The softly animalic touches of ambergris and beeswax blend with a sumptuous, original accord of musks.
A stunningly different interpretation of the majestic rose.
Liz Moores describes Tobacco Rose:
"Anthropomorphised throughout literature and poetry, the illustrious rose is immortally bound to its sweet, old fashioned and pretty stereotype. Tobacco Rose combines the scent of overblown roses with rich, mineral notes, as though one were breathing in not only the fading petals but the rich earth from which a rose grows. This is a perfume that rejects prettiness but instead combines the opposing masculine and feminine elements that fuse within nature."



Top notes: Bulgarian Rose Otto, Rose de Mai, Geranium Bourbon
Heart notes: Galbanum, Beeswax, Vetiver, Hay, Ambergris
Base notes: Oakmoss, Musk (Perfumer's original formula)
Family: Woody Floral
50 ml. EdP spray, 1 ml. spray sample
Loading...