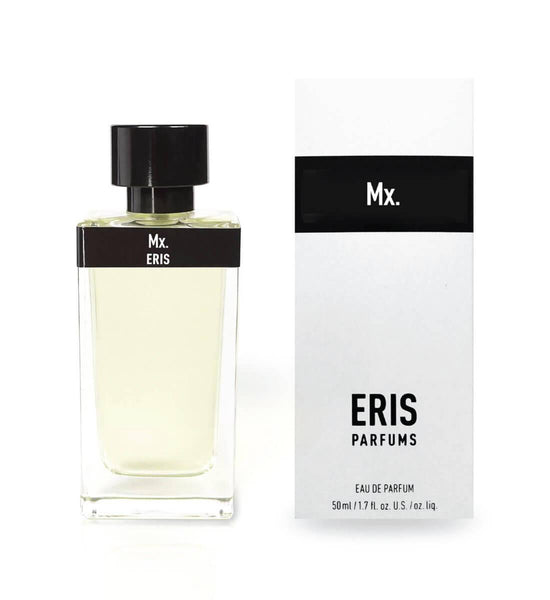 Add to wishlist
Mx. by Eris Parfums at Indigo Perfumery
We are living in the middle of a gender revolution.
ERIS PARFUMS is commemorating it with a scent for all genders.
Named after the gender-neutral title that is starting to replace Mr., Mrs. and Ms., Mx. (pronounced "mix"), celebrates liberation from the constraints of gender, where "X" marks the freedom to be who you want to be. 
A sparkling mix of ginger, saffron, vetiver, and black pepper on a creamy bed of cedar and sandalwood, wrapped in rich notes of cacao, benzoin, and the animalic purr of castoreum, Mx. blurs the boundaries between conventionally masculine and feminine perfume notes to create a symphony of olfactory decadence.
"Mx. is a subtle mix of rich ingredients I love, without floral notes or diluted musks. It's not a clean, neutral, unisex fragrance, but a lush, romantic, inviting scent for everyone- whatever their gender."  ANTOINE LIE, Perfumer
"Fragrance lovers know that a beautiful perfume has no gender, but the reality is that some notes are still assigned one. Mx. plays with this gender binary in perfume, blurring and mixing the boundaries between traditionally masculine and feminine perfume notes, to create a luscious woody animalic fragrance for all genders." – Barbara Herman (Founder & Creative Director)

TOP: Indian Ginger, Madagascan Black Pepper, Saffron, Ethiopian Olibanum (Frankincense)
HEART: Australian Sandalwood, Virginia Cedarwood
BASE: Haitian Vetiver, Indonesian Patchouli, Laotian Benzoin, Russian Birch Tar, Venezuelan Cacao, Castoreum
50 ml EdP spray and 1 ml. glass spray sample 
Loading...