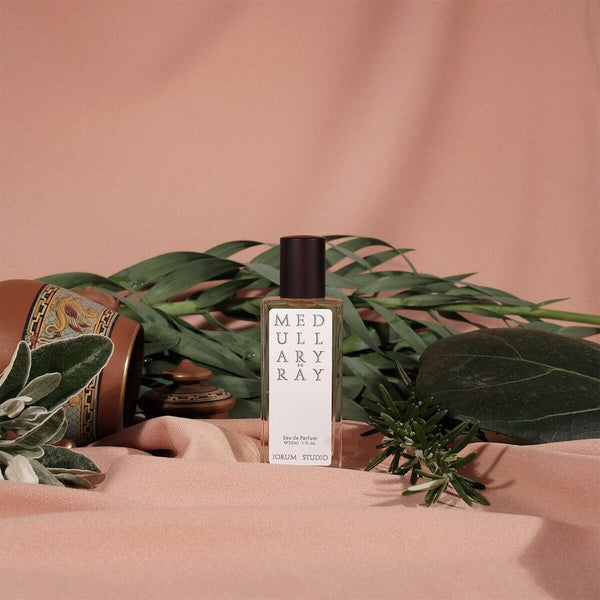 Add to wishlist
Medullary-ray by Jorum Studio at Indigo
Rays of Tuscan springtime glint between the strokes of the woodworker's plane. The midday air fills heavy with the scent of blushed fruit and waxen-leaf.
The metallic rasp of blade against ancient fibre, the aroma of fresh shavings and static heartwood curls.
Medullary-ray presents a floating balance of intimate tensions. The handling of opposing materials creates sympathetic space before unifying to produce a hypnotic fibrous signature.
Savoury fruits and dry botanicals lift this inceptive sawdust profile; a fresco of gilded flowers and grasses enriched with balsamic resins. Voluminous layers of bronzed wood tones stabilize Medullary-ray creating profound texture, façade and resonance.
A cadence of root and smoke creates an ethereal trail that enthrals. Look out for the glimmers of saccharine red fruits, delicious if caught, even if only momentarily.
Medullary-ray is an olfactory encounter between crafted wood and lazily harvested Tuscan fruits.
Notes: Fig-leaf, Cardamom, Olive, Juniper, Frankincense, Orris Butter, Rose Absolute, Pomegranate, Myrrh, Vetiver, Guaicwood, Papyrus, Hay, Birch, Cedarwood, Castoreum, Valerian, Sandalwood Oil

Family: Woody
Perfumer: Euan McCall
30 ml EdP, 1 ml. glass spray sample 
Loading...