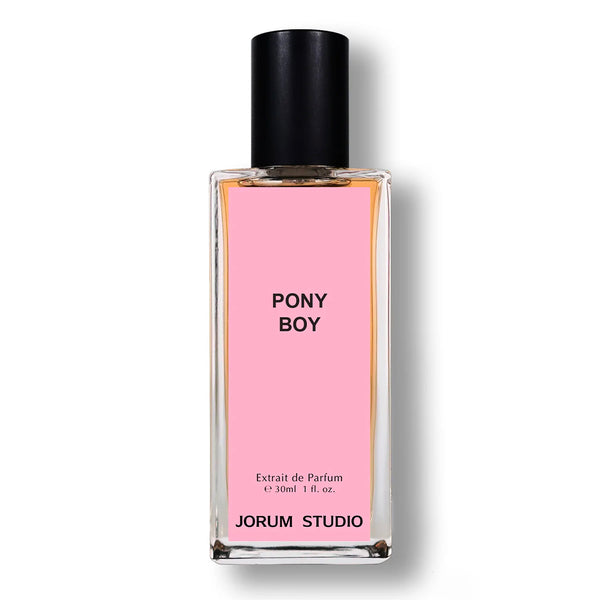 Add to wishlist
Pony Boy by Jorum Studio at Indigo
PONY BOY is a sour, fruity-floral-green Extrait de Parfum with fresh, hot-steam elements. There is something both intoxicating and revitalizing about it – in a similar vein to one of Jorum Studio's other popular picks, Paradisi.
The name is inspired by the Kelpie – a shape-shifting folkloric figure said to inhabit lochs in Scottish folklore. 'We'd already touched upon elements of Scottish folklore in HEALING BERRY and FIREWATER, so it was natural to continue along this path.
PONY BOY is an alternate story of the kelpie: a shape-shifting folkloric figure said to inhabit lochs and other bodies of water in Scottish folklore. Kelpies are traditionally male, yet historically they are most often represented as the stereotypical female 'temptress' in visual art.
PONY BOY celebrates temptation in all its forms through the subversion of expectations: the kelpie, perpetual outsider and tired of his loch-bound existence, visits a local sauna and erupts a rhubarb-tinged cloud of steamy bliss primed to hypnotize passers-by.


Impression

: Rhubarb, Coriander seed, Fig, Pink Grapefruit, Champaca Absolute, Pink Pepper, Beetroot
Fade

: Pink Lotus Absolute, Vetiver, Ambrette seed, Atlas Cedarwood, Raspberry Leaf, Red Cedarwood, Calamus
Perfumer: Euan McCall
30 ml Extrait de Parfum, 1 ml. glass spray sample
Loading...