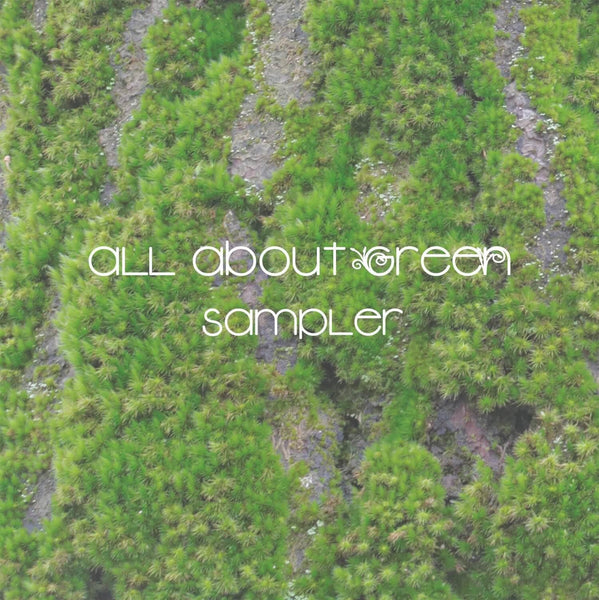 Add to wishlist
All About Green Sampler by Indigo Perfumery
Indigo's perfume vendors have recently released beautiful and varied "green" perfumes and we would love to share them with you in the All About Green Sampler!
Refresh your fragrance wardrobe by sampling scents with an emphasis on what we all perceive as "green". Green can be portrayed by mosses, resins, flowers and essential oils. 
Pergola by Exaltatum- A jubilant celebration of green. A walk through the park. Moss, grass, ivy and a bouquet of playful jasmine.
Green Spell by Eris Parfums describes the fragrance conception of leaves, meadows and grass with its fresh green notes that result in a sparkling and joyful hallucinatory elixir.
Green Cedar by Abel- An aromatic, fresh take on green, reflecting the warmth of classic cedar, surprised by gentle spices and just the right amount of smoky.
Migration de L'Arbre by Senyoko- a complex collection of green and wood notes. Its soothing, mystical aura has impressive sillage and longevity. Hauntingly beautiful.
415 A.D. (new in) by Curionoir- Inspired by Hypatia, the first recorded female Egyptian philosopher, Tiffany Witehara (Curionoir founder) created a lively, fresh, unisex extrait de parfum carrying raw materials that were present in 415 A.D. A green and resinous delight for the soul.
You will receive all five 1 ml. spray samples for $20, plus a coupon code for $10 off one full 50 ml. bottle from the All About Green Sampler perfumes.
The samples are provided in 3 ml. glass spray vials filled with 1 ml. of perfume. The samples are prepared by hand with the actual, original perfume from the perfumer.
Loading...