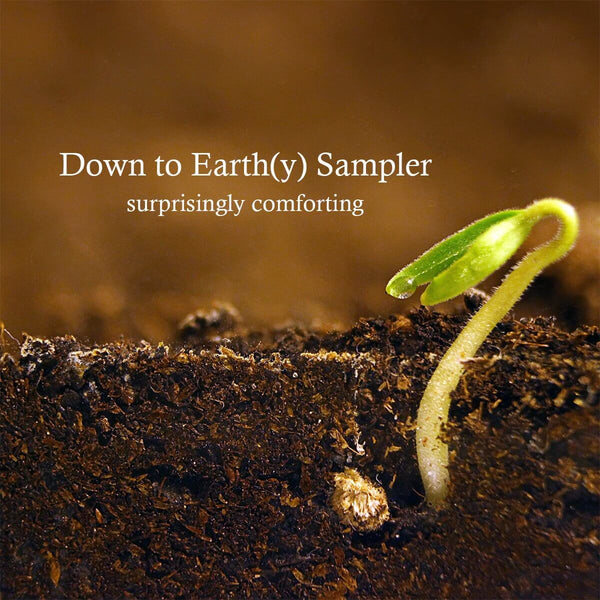 Add to wishlist
Down to Earth(y) Sampler at Indigo Perfumery
There is nothing quite like the smell of fresh soil (known scientifically as geosmin). Digging your hands into the freshly turned earth, especially in the spring, seems to truly ground you. (This is a slightly different scent than Petrichor- the smell of rain first hitting the ground.) The scent is actually produced by bacteria and will smell different depending on the location. Healthy soil is actually its own intricate ecosystem. 
How to describe this smell? It is the very essence of a base note. Fresh in a real way. Sweet even. Full of life. It is a scent that all animals, including humans, learned billions of years ago. It was determined that humans can smell it at levels as low as 100 parts per trillion. Amazing.
We present the fragrances in our collection that are best described as earthy, each in its own unique manner. We would love to hear what you think as well.
Arborist- A multi-layer blend of woods and resins on leather, topped off with unusual botanicals.
Migration de L'Arbre- Green as green can be, with woods mixed in. Intoxicating. Migration de L'Arbre will draw you into its soothing, mystical aura with impressive sillage and longevity.
Pays Dogon- A verdant oasis opening graduates into a mineralic composition reminiscent of sun-warmed stone with a touch of soil and subtle musk. Just amazing.
Carduus- A complex brew that conjures up the scents of childhood in the Scottish countryside: green stalks, herbs, a floral breeze, tea and honey.
Bois d'Ambrette- Subtly musky, a bit nutty, a little soft floral, a dash of cognac and a hint of tobacco. Addicting.
You will receive all five 1 ml. spray samples for $20, plus a coupon code for $10 off one full bottle from the Down to Earth(y) Sampler.
The samples are provided in 2 ml. glass spray vials filled with 1 ml. of perfume. The samples are prepared by hand with the actual, original perfume from the perfumer.
Loading...