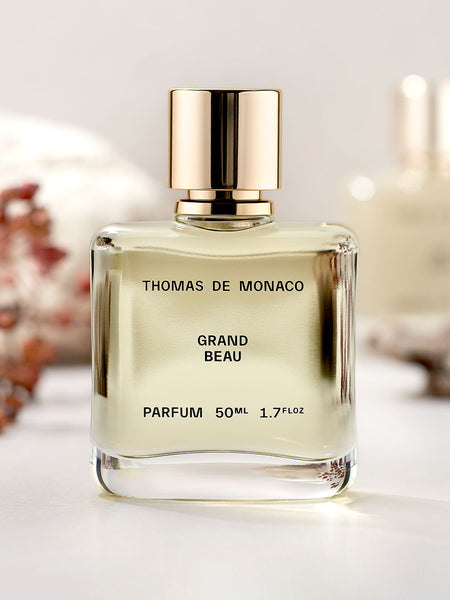 Add to wishlist
Grand Beau by Thomas De Monaco at Indigo Perfumery
Grand Beau – a day by the sea, a few steps beyond the nearest dunes, eyes closed, in the shade beneath the pine trees. In the distance the roar of the breaking waves. Caressing the skin a salty breeze with a hint of dry driftwood and the tang of damp seaweed. Radiant, fresh and bright.

Grand Beau is a French phrase that describes both a weekend under a blue sky and that beautiful person we would like to be – mature in spirit and elegant in appearance. 
Grand Beau offers a complex blend of high-quality, natural and refreshing absolues. It all begins with the spicy Mediterranean warmth of pine absolue and the gin-evoking freshness and spiciness of the juniper berry, along with tart and green angelica root.
The charming presence of tuberose absolue in the heart is enhanced by the potent presence of the earthy, woody molecules circling round. How calming is its interaction with vetiver and olibanum. Dry, subtly salty seaweed combines with musk and amber notes to lend the perfume infinite grace and beauty.

Grand Beau is ingeniously structured yet interwoven with a distinct air of mystery.
Top Notes: Pine Absolue, Juniper Berry, Angelica root
Heart Notes: Tuberose Absolue, Olibanum, Vetiver 
Base Notes: Ambrette, Seaweed Absolue, Ambrocenide
50 ml. EdP, 1 ml. spray sample
Perfumer: 

 Maurus Bachmann
Loading...