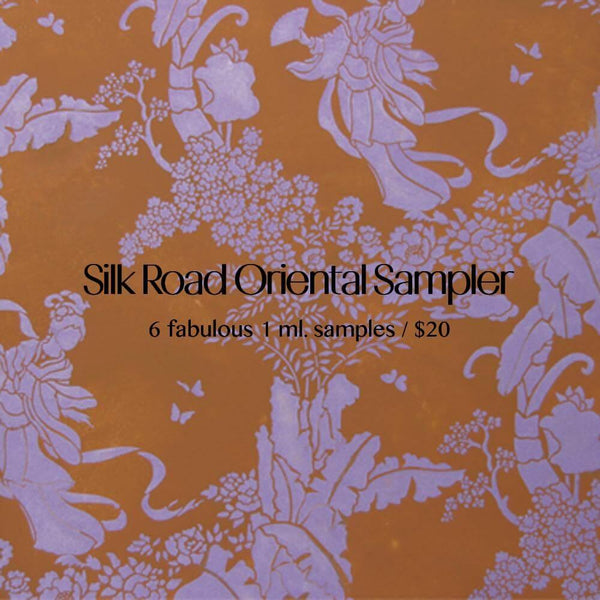 Add to wishlist
 Silk Road Oriental Sampler at Indigo Perfumery
With the return of cool, damp winter days, now is the time to discover scents that are described as Oriental. Frequently they contain notes such as vanilla, amber, coumarin, spices (cinnamon, nutmeg, cloves, etc.) and long-lasting resins. 
We offer you these modern interpretations on traditional orientals (like Shalimar and Opium). Prepare to be wowed by their beauty... and their staying power. 
When you purchase the Silk Road Oriental Sampler, we will send you the coupon code for $10 off one full bottle purchased from the Silk Road Oriental Sampler. **
1 ml. samples in 3 ml. glass spray vials are filled to one third, prepared fresh and by hand with the actual, original perfume. 
Istanbul by Gallivant is, as Nick Steward (Gallivant creator and traveler) says, "an Orientalist's fantasy expressed in a modern script." Some of the slightly unusual notes added to the Oriental structure are red thyme, lavender and geranium. Just what you would want in an exciting Oriental fragrance.
Tango by Masque Milano is a warm and sensual fragrance, full of amber nectar. It will leave you swooning. 
Mon Seul Désir by Jul et Mad is elegant and enveloping. Nutmeg, pink pepper and mandarin star in the opening, float past the osmanthus and coriander to join forces with its benzoin base. Add in a few woods (oud and guaiac), amber and musk and you have a perfect evening. 
Night Flower by Eris Parfums surprises. It opens with an unusual leather / suede + tuberose combination that seduces all the way through to its spicy drydown of cardamom, cinnamon, tonka bean and patchouli. Mmmmm….
Constance by Deco London opens with a sweet burst of bergamot, mandarine, mimosa and raspberry blossoms. Its spicy-floral heart develops into rich woods, opulent vanilla and sensual musk.
Pablo by Curionoir is the ultimate in sensual smoothness.

Tonka bean and Cuban Tobacco leaves star in this magical elixir.
**Indigo reserves the right to substitute if an item is out of stock.
Loading...